Kedarji shares research data on curing and preventing SARS-COV2 Coronavirus without vaccination. And herd immunity without a vaccine.
See What Is A Virus? Blog
Want to contribute to this blog? Email us.
Email This Post To A Friend
REFERENCES THAT SUPPORT THIS INSTALLMENT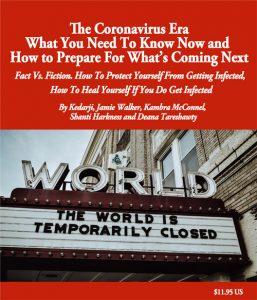 The Coronavirus Era – What You Need To Know Now and How to Prepare For What's Coming Next – eBook download.
UNDERSTANDING THE DANGERS OF THE COVID-19 RESPONSE. BY DR. KELLY VICTORY (This video was banned on YouTube and Facebook due to their censorship polices)
Dr. Simone Gold and medical group – On a break from the summit, they held a press conference on the steps of the Supreme Court. Watch the video of that press conference that was later censored
The above video got more than 17 million views on YouTube. It was quickly taken down and also censored from Google, Facebook, Instagram and references/links to it from Twitter were also censored. Shortly after this, Dr. Simone Gold was fired from her job in emergency medical practice and her domain name used for her website (which she owns) was disabled.
You can hear about this in her own words in a Fox News interview
They have a new web site that you should review here
https://americasfrontlinedoctorsummit.com/
View the videos and then ask yourself why would government and big business censor Dr. Gold and her team of doctors, violating her right to free speech protected by the first Amendment? Are you aware that Facebook, YouTube, Instagram and Google are heavily financed by Big Pharma?
ADDITIONAL REFERENCES FOR THIS BLOG
1. Rath Research Institute ACE2 receptor research
2. Dr. Mathias Rath on Micronutrient applications for preventing and curing Covid
T-CELL IMMUNITY TO COVID
3. Studies Suggest T Cells Important in Fighting Coronavirus
https://learningenglish.voanews.com/a/studies-suggest-t-cells-important-in-fighting-coronavirus/5502429.html
4. The people with hidden immunity against Covid-19
https://www.bbc.com/future/article/20200716-the-people-with-hidden-protection-from-covid-19
5. Karl Friston: up to 80% not even susceptible to Covid-19
https://unherd.com/2020/06/karl-friston-up-to-80-not-even-susceptible-to-covid-19/
6. Coronavirus: Levels of herd immunity in UK may already be high enough to prevent second wave, study suggests
https://www.independent.co.uk/news/health/coronavirus-herd-immunity-second-wave-oxford-study-boris-johnson-a9623791.html
7. Different pattern of pre-existing SARS-COV-2 specific T cell immunity in SARS-recovered and uninfected individuals
https://www.biorxiv.org/content/10.1101/2020.05.26.115832v1
8. The impact of host resistance on cumulative mortality and the threshold of herd immunity for SARS-CoV-2
https://www.medrxiv.org/content/10.1101/2020.07.15.20154294v1
9. SARS-CoV-2 T-cell epitopes define heterologous and COVID-19-induced T-cell recognition
https://www.immunology.ox.ac.uk/covid-19/covid-19-immunology-literature-reviews/sars-cov-2-t-cell-epitopes-define-heterologous-and-covid-19-induced-t-cell-recognition
About This Contributor
Kedarji is a citizen supporter of community health freedom and a contributor to our content. He has spent most of his life being taught Yoga Science by great ascetics in the East. He has married his spiritual journey with his 30 plus years in the holistic health and healing field as both a practitioner and holistic lifestyle research scientist. With his 4 Pillars of Total Well-Being as the foundation (the Spiritual Power, Improved Mental State, Emotional Resilience and Vibrant Health), he leads students in an exact Science for both wisdom and well-being that is imbued with Grace. This includes opening pathways to vibrant health.
Studies In Preventive Medicine, Holistic Healing & Well-Being, Holistic Nutrition
He studied Oriental Medicine, Eastern Medicine and Iridology with Michio Kushi, his mentor and founder of the Macrobiotic movement in America. This included completion of more than 1,500 hours of study in Holistic nutrition, based on nutrient-dense, real food. He completed his studies and training, graduating from The Kushi Institute in 1979.
He also studied with Aveline Kushi, Dr. Bernard Jensen and Wataru Ohashi of Ohashi Institute and Health. Kedarji is also a graduate of Dr. Alan Hopkins' Lab Masterclass where he was taught how to read and interpret biomarkers on blood tests and advanced testing.
He has completed an additional 1,500 hours of study with the top doctors, researchers and scientists in the field, in natural healing based on lifestyle medicine and the Whole Food Plant-Based approach to vibrant health. He continues to follow and monitor the work of these mentors.
Additional Holistic Well-Being Mentoring
Additional mentoring occurred under Michael Abehsera and Masaaki Yamaguchi, the founder of Souen health. Kedarji also studied herbology, botanical medicine and Holistic, Vegan cooking with Anne Marie Colbin. Victor Kulvinskas was also a mentor in botanical medicine. Each of his mentors were original pioneers in these fields.